This Makita DLX6068Pt 18v 6 Piece Kit is a must-have for every tradesman or DIYer, this is one of Toolden's most popular kits containing a 13mm 2 Speed LXT Combi Drill, SDS Plus LXT Rotary Hammer Drill, Cordless Jigsaw, 165mm LXT Circular Saw, 6.35mm (1/4″) LXT Impact Driver and 3 x 5.0Ah Li-Ion batteries.
Makita DML802Z Cordless 14.4v / 18v LXT 12 Position Torch Body Only
The DML802 18V LXT Lithium-Ion LED Flashlight provides bright illumination, versatility, and convenience.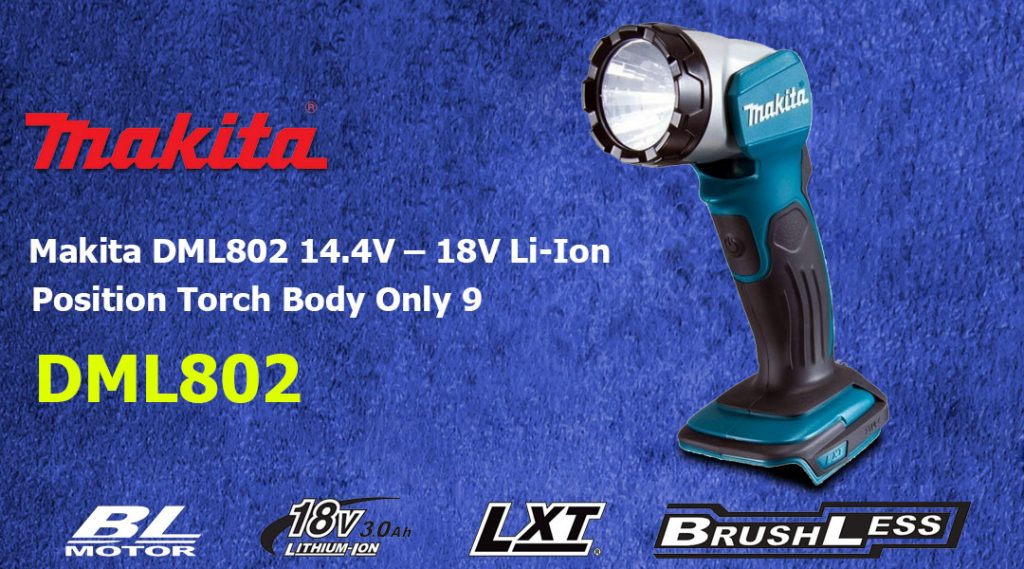 Voltages: 14.4 / 18v
Bulb: LED
Lumens: 200
Operating Times (Approx.):
BL1415: 4 Hours
BL1430: 9 Hours
BL1440: 14 Hours
BL1815: 6 Hours
Makita DHP453Z LXT 18v Combi Drill Body Only
The DHP453Z is an entry-level 18v cordless combi hammer driver drill powered by Makita 18v Li-ion batteries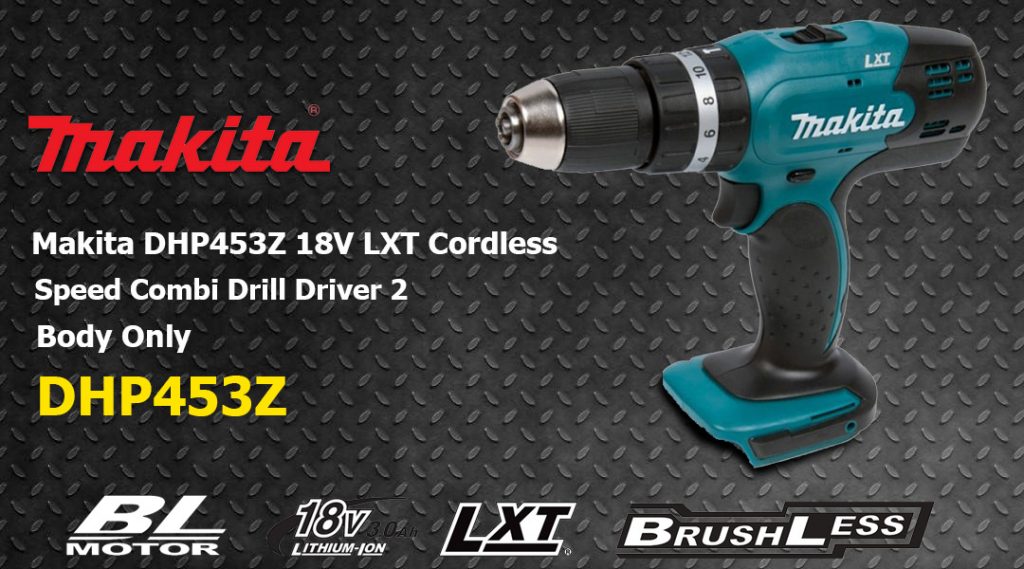 Voltage: 18v
Soft Application Max Torque (Nm): 27
Hard Application Max Torque (Nm): 42
Torque Settings: 16 + Drill
Brake Type: Electric
No. of Gears: 2
Drill Capacity: Metal (mm): 13
Drill Capacity: Wood (mm): 36
Impact Rate (BPM) High: 0-19500
Impact Rate (BPM) Med: N/A
Impact Rate (BPM) Low: 0-6000
Overall Length (mm): 232
Makita DHR202Z 18v LXT SDS+ Plus Rotary Hammer 20mm Body Only
This Makita 18v LXT SDS-PLUS Rotary Hammer Drill is capable of drilling through steel, wood, and masonry with ease.
Voltage: 18v
Shank Type: SDS+ Plus
Capacity in Concrete: 20mm
Capacity in Steel: 13mm
Capacity in Wood: 26mm
Impacts per Minute: 0-4,000 ipm
Impact Energy: 2.0 J
No Load Speed: 0-1,100 mm
Overall Length: 358 mm
Net Weight: 3.5 Kg
Makita DJV180Z 18v LXT Jigsaw Body Only
The Makita DJV180Z is a compact and lightweight jigsaw powered by Makita lithium-ion batteries. Tool-less blade change – push-in lock system enables very fast blade changes
Max in Steel: 10 mm
Max in Wood: 135 mm
Strokes per Minute: 0-2600 spm
Stroke Length: 26 mm
Noise Sound Pressure: 78 dB(A)
Noise K Factor: 3 dB(A)
Vibration K Factor: 1.5 m/sec²
Vibration Cutting Chipboard: 8 m/sec²
Vibration Cutting Sheet Metal: 3.5 m/sec²
Makita DSS611Z 18v Circular Saw Body Only
The MAKDSS611Z 165mm circular saw provides a no-load speed of 3700rpm, performing an impressive 57mm max depth of cut at 90 degrees, 40mm max depth of cut at 45 degrees making it ideal for a range of applications.
Max Cut @ 90°: 57mm
Max Cut @ 45°: 40mm
Max Cut @ 50°: 36mm
Blade Diameter: 165mm
Bore Diameter: 20mm
No Load Speed: 3,700rpm
Net Weight: 3.1kg
Makita DTD152Z 18v Li-Ion Cordless Impact Driver Body Only
The Makita DTD152 is a compact impact driver with an overall length of only 137mm. Although small it is packed with features like 0-3500 impacts per minute and bright twin LED job lights for working in dark conditions.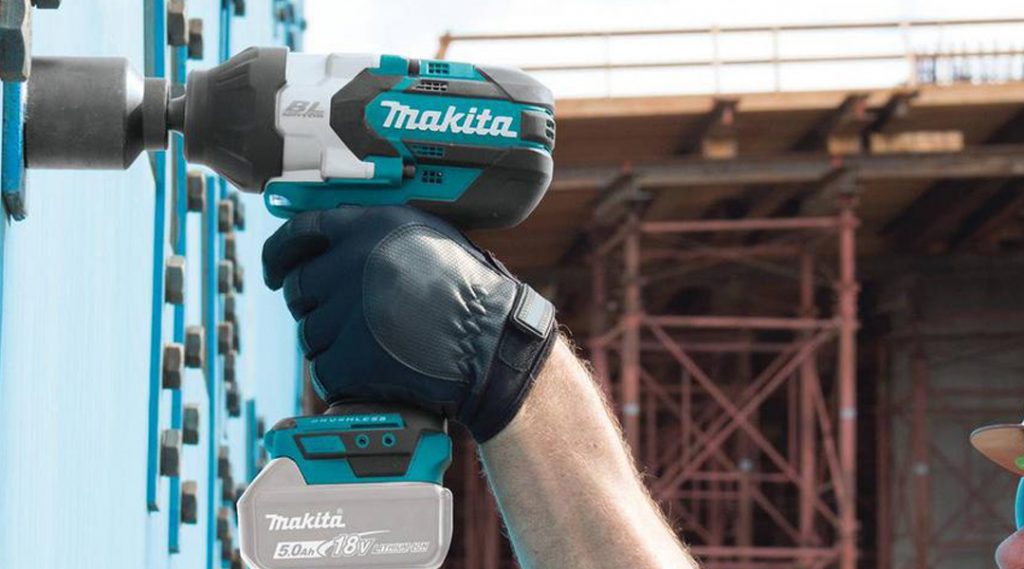 Voltage: 18v
Max Torque (Nm): 165
Brake Type: Electric
LED Job Light: Yes / Twin / Pre-glow & After-glow
Battery Capacity Indicator: No
Battery Compatibility: 18v Lithium-Ion (LXT)
Rotation: Forward & Reverse
Variable Speed Control Trigger: Yes
No Load Speed (RPM): 0-2900
Makita 831279-0 Duffel Tool-Bag LXT600
The Makita 831279-0 LXT Duffel Tool-Bag, from the popular LXT600 kit, is fitted with wheels and a telescopic handle that provides you with a great way to get your tools.
Dimensions: L 660 x W 310 x H 300mm
Makita BL1850B LXT 18v 5.0Ah Lithium-Ion Battery
The greater capacity within the 5.0Ah battery protects against over-heating and high discharge during heavy demand operations, thus extending the working life of the battery.
Voltage: 18v
Battery Type: Lithium-Ion
Battery Voltage: 18v
Charge Time (DC18SD): 110 mins
Charge Time (DC18RA/DC18RC/DC18RD): 45 mins
Makita DC18RD 230v 14.4-18V LXT Twin Port Rapid Battery Charger
This two-port fast charger is able to charge two Makita slide style Li-ion and Ni-MH batteries (with adapter) at the same time, as fast as DC18RC charges one battery making it ideal for work on a professional job site.
Battery Range – 14.4 – 18 V
Battery Type – Li-ion
Pack Quantity – 1
Makita Cordless Tool Kits is a multi-purpose combo tool kits.This kit also comes with a reciprocating 6-pound saw capable of delivering up to 3,000 SPM at 11/8-inch strokes that suit the defined strength, stroke size, comfort, and vibration.
Toptopdeal is our famous online store of power tools. If you interested to buy these power tools visit our website.