Should I choose a corded drill or a cordless drill? What is the distance between them? Which one would be fit for my job? These are the issues that come to mind as we consider buying a drill for the job. All corded and cordless drills do more or less the same thing, but each drill is unique to some key features. Check the difference between a corded drill and a cordless drill, and decide which drill to choose.
Makita DA4000LR 240V 0.5in 13mm Rotary Angle Drill In carrying Case
The DA4000LR Rotary Angle Drill has a powerful 710-watt motor, with trigger sensitive variable speed switch and 2 mechanical gears to deliver up to 900 rpm on high speed with an attachment, 400 rpm on low speed with an attachment and 600 rpm without an attachment.
Makita DDA351Z 18V LXT 10mm Angle Drill With Keyless Chuck Body Only
The Makita DDA351Z angle drill is compact, lightweight and easy to handle. Slimline design makes it the perfect tool for tackling tasks in smaller spaces, and a rubberized grip provides comfort while increasing stability. An all-metal gearbox gives this tool extra durability for use on-site, and 33 torque settings make light work of tasks in wood and metal.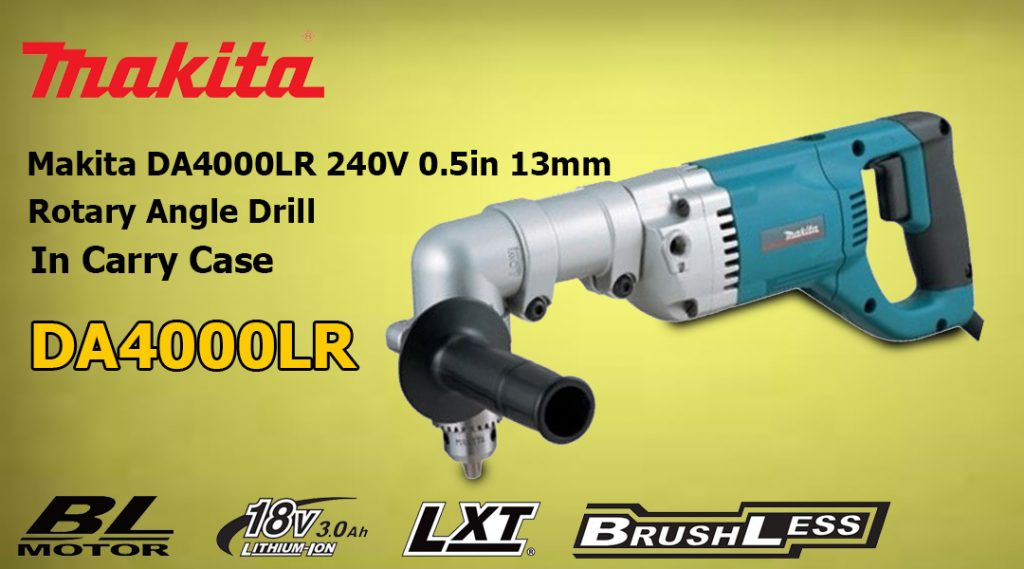 Difference Between corded and cordless Angle Drill:
Power Supply:
Corded Drill: More electricity creates more power. It produces more amperage delivering more power for continued operation.
Cordless Drill: Its battery power might run out during a job.
Corded Drill: Such drills need to be plugged into a source or outlet for electricity. Therefore, the consumer must be close to an outlet to use it.
Cordless Drill: You can take them anywhere, irrespective of the power source closest to you.
Corded Drill: These generate torque which is strong and constant. So, they can do anything like crewing, installing wallboards and boring holes, etc.
Cordless Drill: On the other hand, for certain applications such as hammering, these drills might not produce enough torque.
Corded Drill: These drills are not holding big and bulky batteries. So, this is a much leaner, lighter, and smaller offer.
Cordless Drill: Such drills rely on batteries, so they're a bit heavier than corded drills, and they're more tiring to use for a longer period of time.
Corded Drill: It produces more torque making the drill more powerful and efficient
Cordless Drill: It produces lower torque, with less power, and the drill becomes less powerful.
Toptopdeal provides you with a corded and cordless angle drill. It's time to use the right angle drill that suits your needs. Compact head width for comfort in tight spaces. Ergonomic handle with a soft grip. Easier upsetting angle attachment for change of working mode (high/low speed) thanks to the newly formed drill chuck.