The Makita VC3011L Wet & Dry L-Class Dust Extractor removes 99% of dust with a limit value for occupational exposure >1.0mg/m3. Suitable for processes involving mica, china clay, gypsum. It uses a simple push and clean system, which takes just seconds to clean the filter.
Specifications:
Max Airflow – 3.6 m³/min
Dust Bag Capacity – 28 liters
Max Sealed Suction – 21.0 kPa
Tank Capacity – 30 liters
Tank capacity Wet – 23 liters
Noise sound pressure – 72 dB(A)
Hose length – 3.5 m
Hose Diameter – 32 mm
Input Wattage 240v – 3000 w
Net weight – 11 kg
If you're still sitting on the fence, working with a good dust extractor has so many benefits. Here are five fundamental reasons to own one.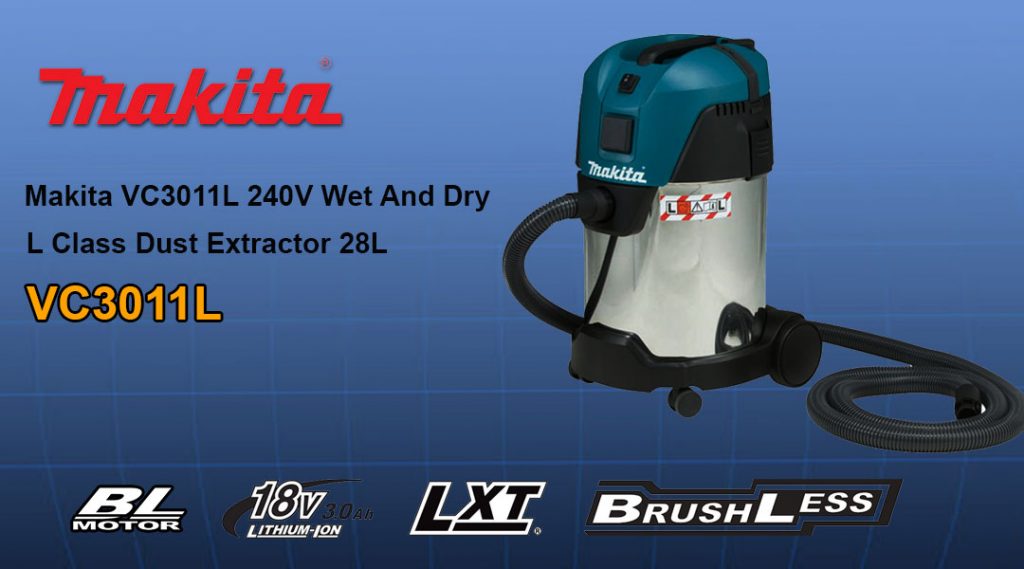 Removing material from the work surface gives you a clearer line of sight. Ultimately the finished product is more precise.
Your work rate accelerates and so the job gets done faster.
Do you hate cleaning up? Dust extraction is another time-saver that helps to reduce this.
Longer life for tools and accessories. Less dust goes into the motor and accessories like sandpaper won't clog as often.
Your health! Dust in whatever form it takes does serious damage to your lungs. So let the extractor breathe it in, not you.
Flexible Hose:
Most woodworking machinery will be provided with a large diameter extraction connection. This should marry nicely to your dust extractor, either directly or with some form of the adaptor. An important factor in the operational efficiency of your dust collection system is the positioning of the dust collector, in relation to the machine.
Dust Extractor Safety:
One hazard that is often overlooked in dust extraction equipment is the danger of the buildup of static electricity. The dry timber particles rubbing the inside of the flexible hose are constantly building a static charge, in the same way rubbing a plastic comb through your hair (if you have any) will build up a static charge. Static, when it discharges as a spark, is just one of three parts required to create an explosion.
To buy Makita Dust Extractor, please visit our Toptopdeal website. We only have reputable brands of power tools in stock