The Makita DUC405Z Cordless Brushless Chainsaw features Makita's famous Outer Rotor Brushless Motor powered by two 18v Li-ion batteries. Eliminating the need to mix fuel and 2-stroke oil the saw is also quiet and starts at the press of a button.
A metal spike bumper enables a firm grip on the workpiece.
Captive nuts to prevent loss of nuts when removing sprocket cover.
Adjustable automatic chain lubrication.
Powered by two 18V Li-ion batteries in series to supply energy to the powerful 36V DC motor drive system
Main power switch with auto power-off function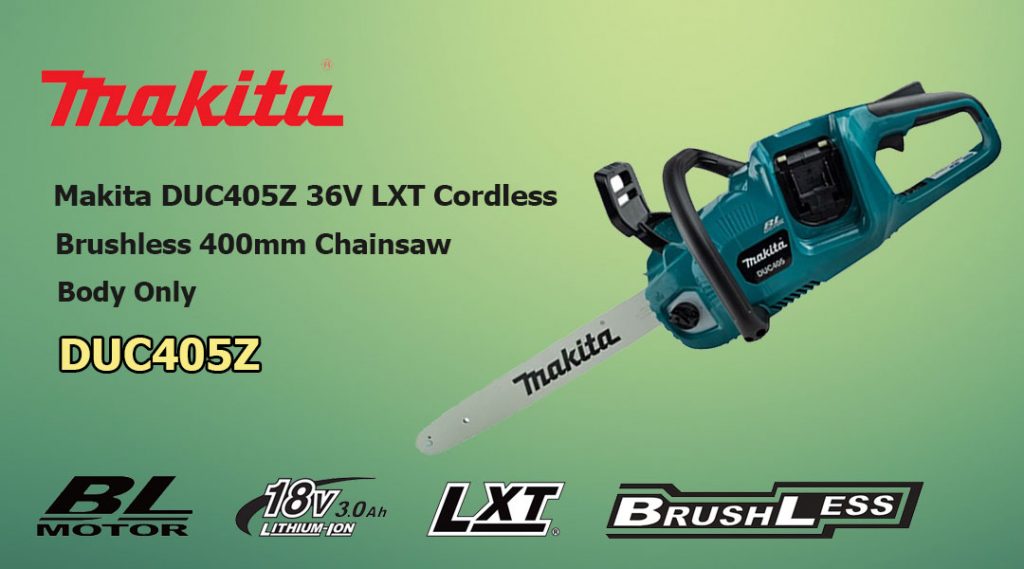 How to Use:
To make a cut, hold the front handle with your left hand — thumb wrapped underneath — and grab the rear handle with your right hand. Get in position — legs apart for stability — and pull back the chain brake to disengage it. Then squeeze the throttle. The saw cuts best when the engine is at full throttle.
Make your cuts away from the bar tip. Cutting with the upper portion of the tip could cause kickback, which can be dangerous and may engage the chain brake. If it does engage, just pull back to unlock.
It's good practice to cut at waist level — never above shoulder height.
Avoid cutting too close to the ground where the blade could dig in and kickback.
Try to cut from the side of the saw — never while hovering over the work area. A kickback in this position could be especially dangerous.
Maintain Chainsaw:
Every time you use the saw, check the chain tension and adjust as necessary.
Regularly inspect the bar and clean it.
Check the air filter — clean and replace it when necessary.
Inspect the operation of throttle lockout, the chain brake, the chain catcher and the oiler.
Chain saw is gardening that is very beneficial to you. If you would like to purchase Makita Chain saw, please visit our popular Toptopdeal website.