This 18v Makita DFR550Z LXT 18V cordless auto-feed screwdriver gun gives high operation efficiency delivered from fast rotational speed and improved screw strip management. This Makita DFR550 auto-feed screwdriver provides high operating performance from quick rotational speed and better control of the screw strip.
Features and benefits:
Forward/reverse rotation – operable with one hand
Adjustable Stopper Base with 7 different settings for different screw lengths – 4 x 25 – 55m
Rubber Cap securely fixed to Stopper Base for accurate positioning and slip prevention
Anti-tilt device – prevents the screw from swaying
Dustproof construction – for smooth-sliding action
Silent clutch – less noise at the end of the driving process
Screw Guide – designed to keep screw strips from tangling and is foldable for tool storage and transportation
Voltage: 18v
Higher Versatility
The ability to drive in and loosening screws makes the Screwdriver a multi-purpose tool that assures a better work outcome.
Increased Efficiency
The Screwdriver has a high-power output due to the high torque level. The driver also incorporates a unique hammering action. The screwdriver functions by integrating the rotational action with the powerful hammering action.
Less Fatigue
The structural composition of the impact screwdriver contributes to greater ease as you work. The drill bit and motor aren't directly connected, hence you'll not experience the high-level torque as you work.
Integrated Light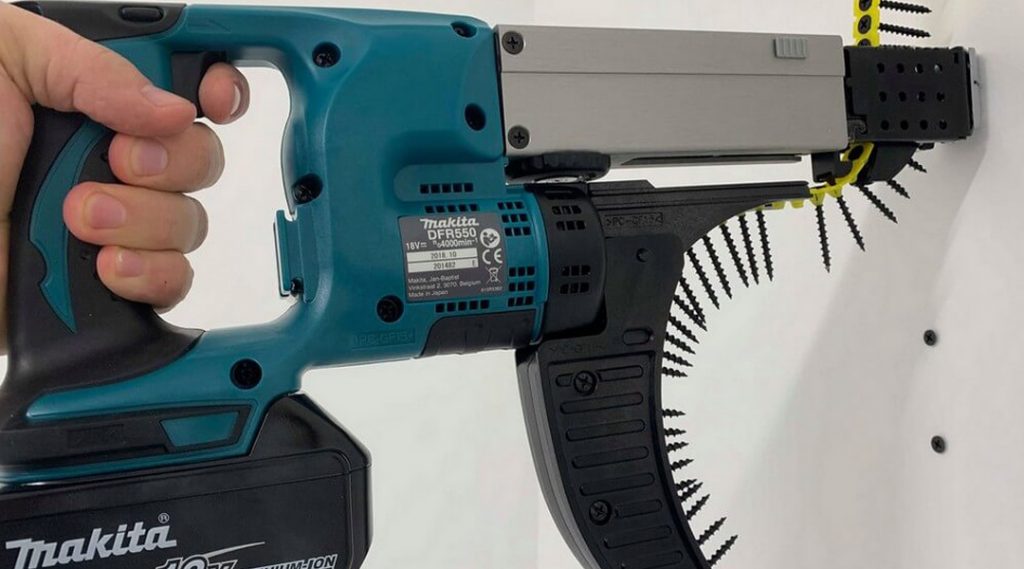 Most models of the screwdriver incorporate light in the tool that shoots a beam forward, allowing you to work accurately in areas of poor lighting.
The best power tool is the Makita Screwdrivers. Make sure that your fixtures and fittings remain in place even after you have gone using Makita drywall screwdrivers to get the job done. Toptopdeal provides you Makita DFR550Z LXT Cordless Screwdrivers.