The Makita 7104L Powerful 12Amp Motor Portable Chain Mortiser 240Vis an innovative power tool that quickly, smoothly and accurately cut notches, through-holes and lap joints up to 128 mm in thick wood stock. It is perfect for the framing of wood and is extremely portable. It has a wide adjustable vice to attach securely to 78 m to 310 mm thick logs.
To adjust the chain position, a simple adjustment knob is used and a quick horizontal chain lever is provided for widening holes. A 1,140W motor is driving the razor-sharp chain. A 1,140W motor drives the razor-sharp chain. A durable plastic boot protects the twin steel rails whilst a built-in carrying handle is provided for easy transportation.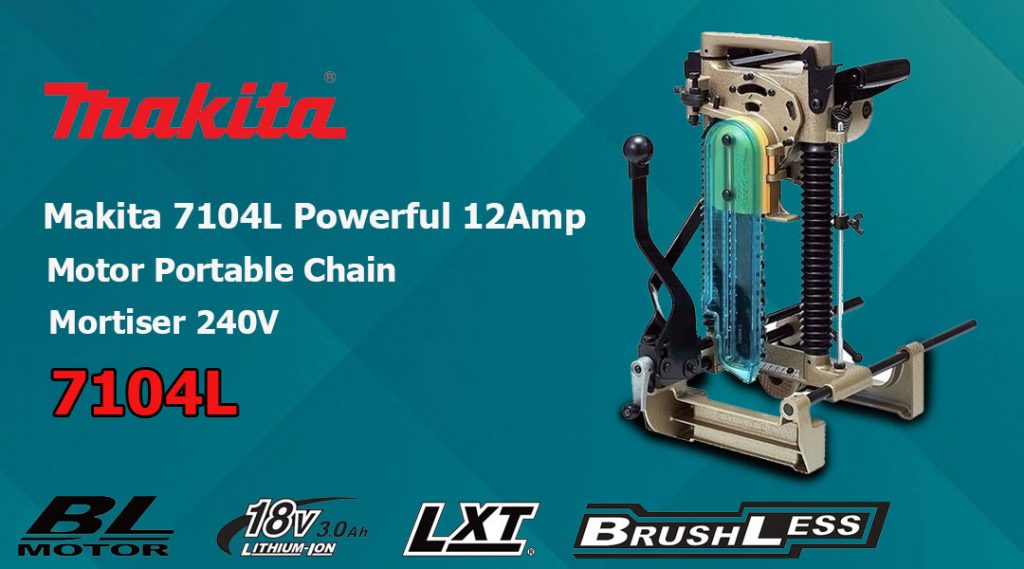 Specifications:
Powerful 12-amp, 3,200 rpm moto
Max mortise width – transverse – 30mm
Max mortise width – longitudinal – 130mm
No Load Speed – 3200 rpm
Vibration K factor – 1.5 m/sec²
Vibration no load – 2.5 m/sec²
Features:
Powerful 10.5 AMP motor (3,200 RPM) to quickly notch or cut holes in thick wood stock
Extremely portable at only 38.1 lbs.
Clamp tension lever for a firm hold on the log
Plunge depth adjustment in 1/8″ increments
Chain tension adjustment cover with snap action
Externally accessible carbon brushes for greater serviceability
Used by woodworkers around the world for thousands of years, the mortise and tenon joint is both simple and strong, and a vital link in the construction of a timber frame. With a drill and chisel or a boring tool, you could do it the old fashioned way, but it would take more time. Performance is the highest priority but, while preserving quality, saving time on each joint ensures higher profitability and more projects in a year. The last thing that anyone needs to do is turn down customers because the time is not enough.
We hope you enjoyed the article on Portable Chain Mortiser. Toptopdeal is a famous online store for power tools. from where you can get it.