Makita DHR400ZKU 36V LXT Brushless SDS-Max Rotary Hammer Drill Body Only In carrying Case
Makita DHR400ZKU is a cordless SDS-Max rotary hammer. The DHR400ZKU LXT Brushless and Cordless SDS-MAX Rotary Demolition Hammer has a 2-mode operation with rotational hammering and hammering only. The choice is a rotation with the Makita SDS Hammer Drill for rapid drilling into concrete, rotation only drilling for metal/wood or hammer only for chiseling. Whatever the material gives fast and efficient results.
SPECIFICATION :
Voltage: 36v (2 x 18v)
No Load Speed: 250 – 500 rpm
Blows per Minute: 1,450 – 2,900 bpm
Shank: SDS-MAX
Max TCT Bit: 40 mm
Max Core Bit: 105 mm
Impact Energy: 8.0 J
Net Weight: 7.3 – 8.1 kg
Makita DHR281ZJ 36V Brushless SDS + Rotary Hammer Drill Body With Quick Change Chuck In Case
This Makita DHR281ZJ Twin 18v SDS+ Rotary Hammer has XPT – Xtreme Protect Technology which is optimum protection against dust and splashes water even under harsh conditions. It also comes with an SDS-PLUS quick-change chuck which enables you to use more variety of drill bits for your specific application.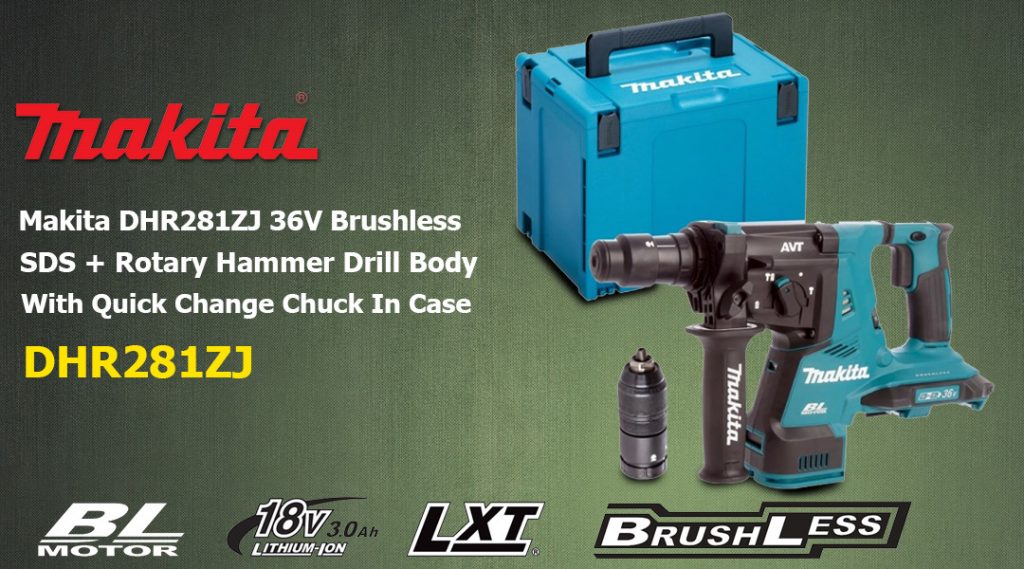 SPECIFICATION :
Battery Compatibility: 18v Lithium-Ion LXT
Voltage: 36v (18vx2)
Impact Energy: 2.8 J
Blows per Minute: 0-5,000 bpm
No Load Speed: 0-980 rpm
Drilling Capacity ø Max in Wood: 32 mm
Drilling Capacity ø Max in Steel: 13 mm
Drilling Capacity ø Max in Stone/Concrete: 28 mm
With Drill Bit: 68 mm
Weight: 4.90 kg
Makita DHR264ZJ 36V SDS+ Rotary Hammer Drill Body Quick Change Chuck With Case
Makita is one of the leading manufacturers of professional power tools on the market. The DHR264ZJ is a 26 mm cordless combination hammer powered by two 18 V Lithium-ion batteries in series. The Makita DHR264ZJ is a 26mm cordless SDS plus rotary hammer drill based on models BHR262T but powered with 2 x 18V batteries giving the equivalent power of a 36-volt machine.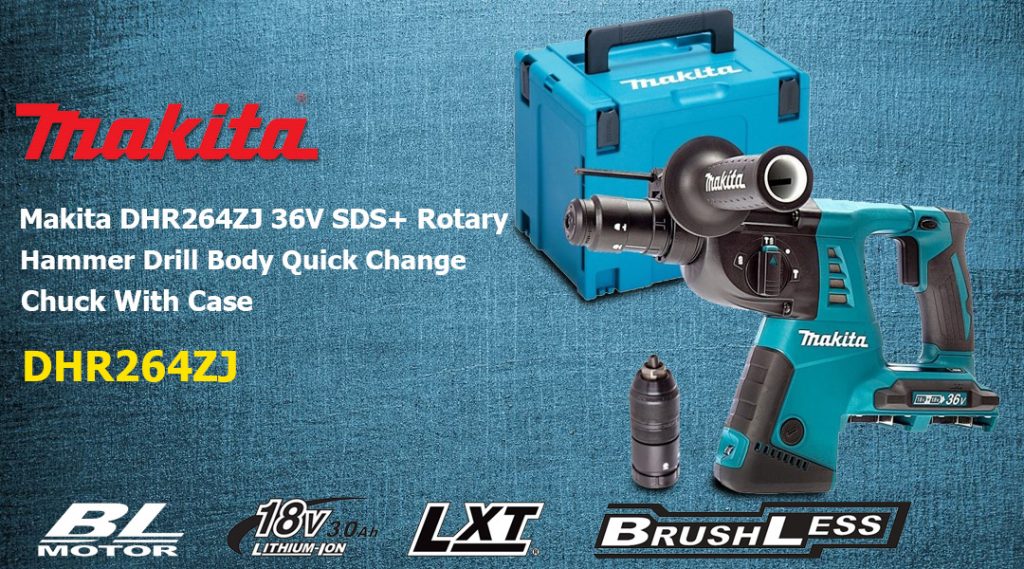 SPECIFICATION :
Voltage: 36v (2x 18v)
Battery capacity: Up to 5Ah
Charge Time: 36 minutes for 4Ah, 22 minutes for 3Ah
Max. in steel: 13mm
Max. in wood: 32mm
Max in concrete: 26mm
No-load speed: 0-1,200 rpm
Impacts per minute: 0-4,800bpm
Impact energy: 3.0 Joules
Chuck type: SDS+ plus (quick change)
Operation modes: 3 modes
Net weight: 4.7kg
SDS Sizes and Ratings
SDS Plus is the smallest of the three. The shank is 10mm and inserts 40mm into the chuck. It is rated for hammers up to 4kg.
SDS Top is a rare configuration. It uses a 14mm diameter fitting that inserts 70mm into the chuck. SDS Top is rated for hammers in the 2kg to 5kg range.
SDS Max is a common industrial fitting. It uses an 18mm shank with three open grooves instead of the two rolling balls employed in SDS Plus and SDS Top. The shank inserts 90mm into the chuck. SDS Max is rated for hammers over 5kg.
We hope that ours is one of the most useful reviews of SDS hammer drills you read and that at least our buying tips will help you get the best purchase possible for your hard-earned dollars. If you would like to purchase Best SDS hammer drills, please visit our Toptopdeal website.