Dewalt Power's best hybrid tool kit with everything. Dewalt Combo Kit features eight heavy-duty power tools as well as a Bluetooth speaker that can replace your old set of tools. This kit also comes with a reciprocating 6-pound saw capable of delivering up to 3,000 SPM
Dewalt DCK694P3 18V Brushless 6 Piece Kit
DeWalt DCK694P3 18v 6 Piece Kit including 3x 5Ah Batteries, Charger & 2x DS300 Tool Boxes. This kit Improved grip design providing greater application control and maximum comfort. It features a functioning LED light, making it ideal for use in close unlit regions. High cordless power tools with modern XR Lithium-Ion engineering latest generation.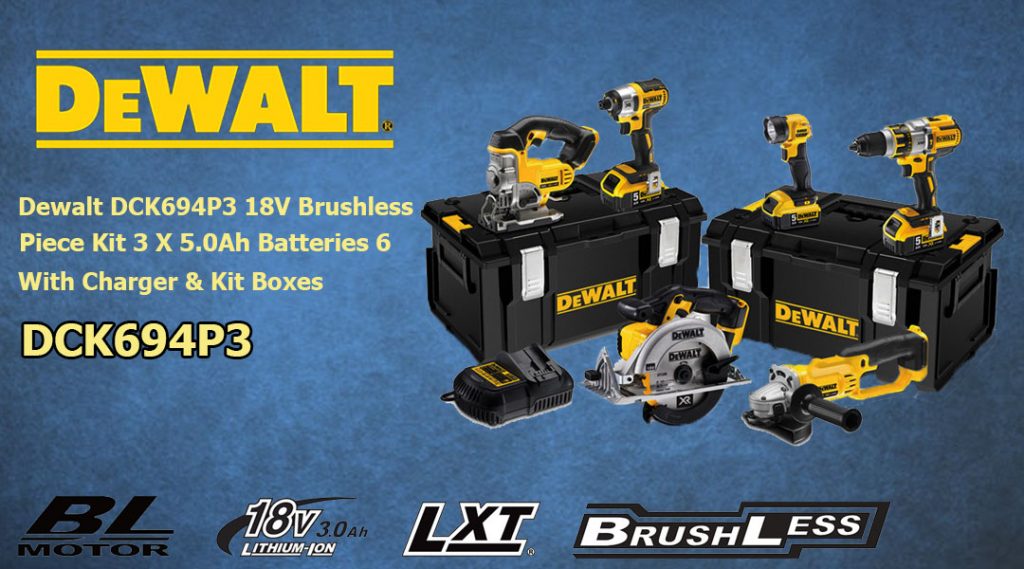 DCD996 Hammer Drill
DCF887 Impact Driver
DCS391 Circular Saw
DCG412 Angle Grinder
DCS331 Jigsaw
DCL040 Torch
Dewalt DCK699M3T 18V 6 Piece Kit
DEWALT DCK699M3T is a comprehensive set of premium cordless power tools featuring XR Lithium-ion Technology. The kit also comes with 3 x 4.0Ah 18-volt Lithium-ion batteries which slide onto each of the tools. It has High power Brushless motor outputting up to 205Nm of torque ensures heavy applications are completed quickly.
DCD795 – Combi Drill
DCH253 – Hammer Drill
DCF886 – Impact Driver
DCS391 – Circular Saw
DCS331 – Jigsaw
DCL040 – Torch
Dewalt DCK665P3T 18V 6 Piece Kit
The Dewalt DCK665P3T is a six-piece combination pack intended for Carpenters which represents fantastic value for money. The kit is a great value for money and this even includes a free 4th 5.0Ah pack. It offers a comprehensive range of tools with 3 x 5.0Ah Batteries and 2 x TSTAK kit boxes.
DCD796 Combi Drill
DCP580 Planer
DCS391 Circular Saw
DCS355 Multi-tool
DCS331 Jigsaw
DCL050 Torch
Dewalt DCK623P3 18V Brushless 6 Piece Kit
DeWalt's DCK623P3 package is a six-piece cordless tool kit comprising an angle grinder, compact reciprocating saw, circular saw, impact driver, combi drill and LED area light. This DeWalt Brushless kit is perfect for busy tradesmen and worksites. Featuring six power tools, three powerful 5Ah batteries, and a multi-voltage charger.
DCD796 Hammer Drill Driver
DCF887 Impact Driver
DCS570 Circular Saw
DCG405 Angle Grinder
DCS367 Reciprocating Saw
DCL050 Light
DEWALT Tools Kit provides a wide range of hybrid kits to fit Technical Users and popular applications. You can choose any tool kits according to your choice. Toptopdeal is our popular website of power tools.